Tiles have grown immensely over the past years. Duratiles provides the large format tiles which have transitioned from being used only in commercial space to being very common in residential space.
What exactly is a Large Format Tile?
With today's technology, a large format tile is any tile with at least one edge larger than 600mm; however, individual tiles may be as large as 1200×2600, and the industry continues to deliver even larger sizes. They are mostly made of porcelain or sintered stone and come in square or rectangular forms.
If you want to take a stance in your home, large format tiles are a great way to do so.
Find out more about large format tiles here:
Since the tile has more coverage, large format tiles have less grout lines. Since there is less grouting, you can achieve a crisp, unified look in the design of a space, giving it a wallpaper impact.
Duratiles are a perfect alternative to paint or wallpaper because they do not need repainting. Because of the natural surface qualities of porcelain, large format tiles need less maintenance to keep clean.
Large-format Dura tiles have a new, streamlined design that adds a contemporary edge to any room. Use the same wide tile for your wall and your floor to create a more modern look in a space.
Grout lines will often obstruct your eyes in an open room; however, large format tiles minimize visual interruption and make space appear larger, providing some relief for your eyes and creating a seamless look. If you want to build the illusion of more space, use large format tiles horizontally.
Similarly if you want to make walls in a room look taller, use large tiles vertically.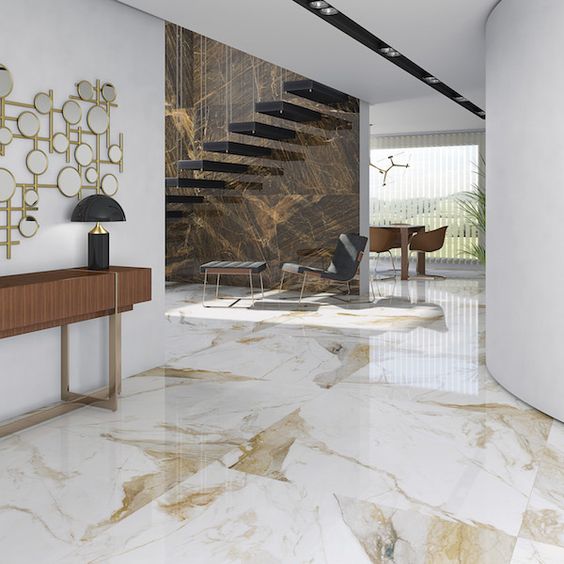 It is important to instal the product correctly:
As tile sizes increase, the importance of proper installation practises increases, particularly when working with porcelain slabs. Make sure you hire an experienced installer who has the right equipment for the job and uses the right adhesives. A successful installation will protect your tile investment even more than the expense of professional workmanship.
You can order on our website, over the phone, or stopping by our tile shop near you. Come to us for all your tiling needs.