The most effective bathroom tiles by Duratiles Pakistan
If you want to simply update your current bathroom floor tiles or create an entirely new bathroom design, there are a number of factors to consider to ensure that you achieve the desired look; after all, we all want our bathrooms to be havens where we can retreat, relax, and find time for ourselves.
So, what factors do you consider when deciding which bathroom floor tiles to use? Which color do you go with? Mosaic or large? Natural or textured? There are several variables to consider.
Don't be concerned! To help you make these crucial choices, we've compiled a list of top tips on how to choose the perfect floor tile for your bathroom.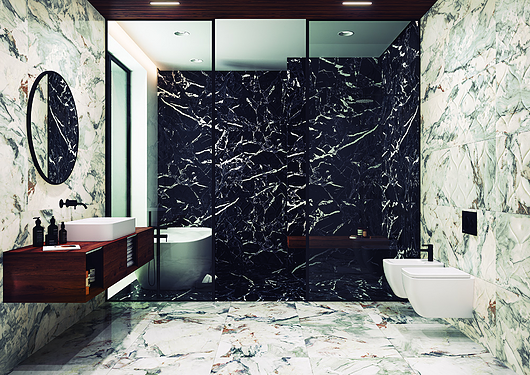 Choose your preferred look
What kind of atmosphere do you want to create in this special room?
Finding one pattern that you really like is a simple way to start selecting your bathroom floor tiles. You may have fallen in love with the sleek, modern appearance. Maybe you like bright colors, glitter, or different shapes and textures. If you've agreed, you should keep this look and sound in mind while you make all of your other decisions.
Do you want a prominent feature?
What do you like to be the key focal point as you walk into the bathroom?
Once you've decided on that, you can start looking for the perfect tiles to draw attention to this room, whether it's a splashback for your antique bath or an eye-catching mosaic in your new shower enclosure. Then you can start selecting bathroom floor tiles that will complement and improve the room's main function.
Selecting Floor Tiles
What if you want a plain tile for the walls and a white bathroom suite?
If you've already chosen a simpler, future-proof design because you're concerned about falling out of love with the latest trends, this is where your bathroom floor tiles will shine. Floor tiles can add a WOW factor to any room and are easy to adjust when you want a new look. They are also practical and hard-wearing for both bathrooms and wet rooms. With our wood effect porcelain floor dura tiles, you can achieve the boho look, add glitter and glitz, or even the look of real wood for the perfect rustic, shabby chic finish.
Room vs. tile scale
In general, most bathrooms are not big, so you might want to avoid larger floor tiles, which, if used, may make your bathroom feel smaller. Ideally, choose tiles that match the size of the space. I hope these suggestions have been helpful; however, if this all seems a little overwhelming, our expert team is always happy to help.